Sell with us
Our network with specialized experience in real estate management is the right channel to achieve the best sales result maximizing the value of the property.
We give our know-how
to support your goals
PRIVATE
PROPERTIES
Send us the documentation of the property to sell, we will evaluate together a route of online auctions that we will agree based on your needs!
PRIVATE
PROPERTIES
We offer you:
Maximum Flexibility
Targeted Promotion
Zero Costs
Are you a real estate agent?
You can collaborate with us by expanding the network of properties in your area!
REAL ESTATE FROM
BANKRUPCY PROCEEDINGS
Have you been appointed
by the court of a real estate sale?

Entrust to the specialized subject with greater experience in the field of online auction sales.
REAL ESTATE FROM
BANKRUPCY PROCEEDINGS
We guarantee complete management:
Maximum online yield
Multichannel marketing
Assistance at every step
Regulatory compliance
Final reporting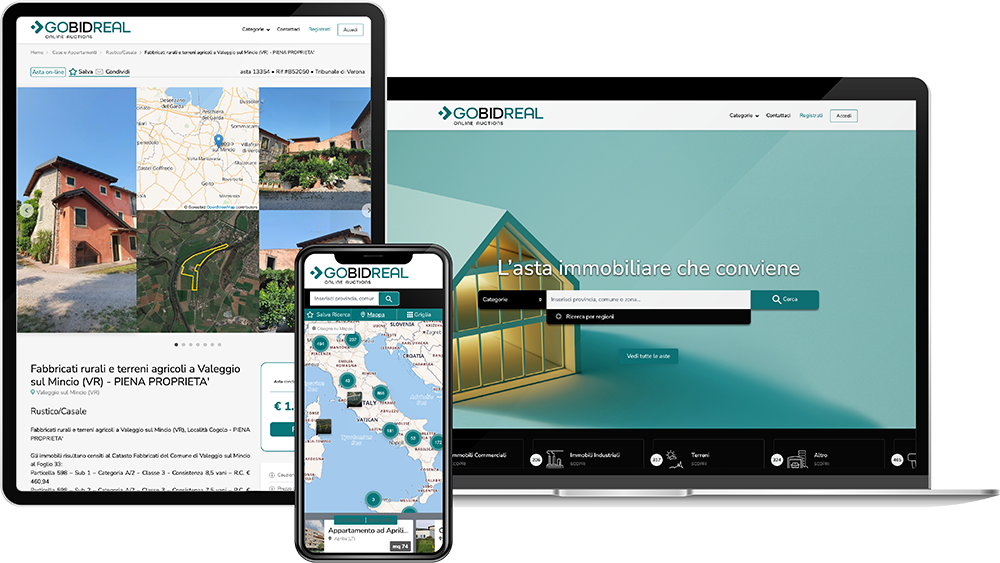 The Gobidreal.it portal was born as a natural vertical development of the real estate sector in the context of the experience gained with Gobid.it. The specificities of the real estate sector have made it necessary to implement a dedicated web project, in which demand and supply of real estate meet through our specialized mediation.

Gobidreal.it is today a functional website with an attractive design, which aims to become a qualified support for private and judicial sales on the one hand, a reference point for all subjects, companies and individuals, in search of real estates.
Users Reached
per Day
50000