Featured Auctions
In Pozzuoli (NA)
Tennis Hotel
accommodation facility.
• 1km from the seafront
• 186 beds
• 6 tennis courts and 2 pools
In the vineyards of Valpolicella
Historical villa
used as hotel.
• Renovated 16th century villa
• 6 km from Verona
• 20 rooms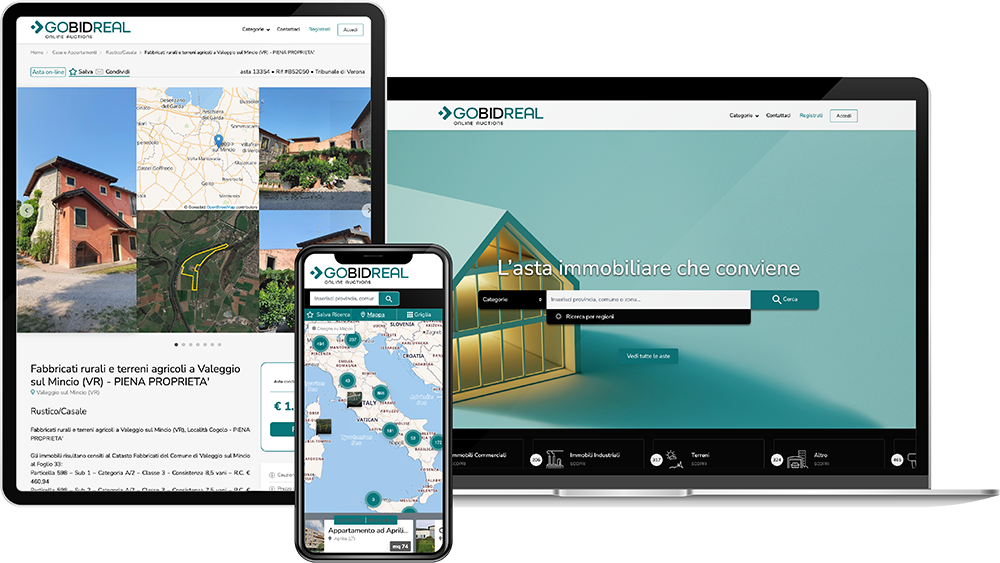 Gobidreal.it portal is the virtual place where demand and supply of real estate meet through the online auction mechanism, the only one able to guarantee the maximization of asset value and participation from anywhere in simplicity and security. We work with a specialized team able to assist you at every step of the route.
Real estate auctions: search by provinces
On Gobidreal you can find the best Italian real estate auctions, with photos, accurate descritpions and all the documents related to the auction. Moreover, you can always view the real estate of our auctions. You can find houses auctions, apartments, industrial and commercial buildings and lands in auction in Italy. Register in order to save you researches and your auctions of interests.
Sing up for the newsletter
What you can get with Gobidreal.it
the portal
Gorealbid is an online platform that allows buying and selling real estate
The best solution
Do you want to invest in your business by extending the building structure? You want to move house?
Rely on us
Selling the real estate on Gobidreal.it to the best possible result is our goal
Our team
Gobidreal.it born from the experience of the auction house www.gobid.it
Highlights
Great sales experience and a success story in asset maximization
FAQ
What you need to do to participate in a sale?
The procedure is quick and easy